The colors of the Summer Solstice on the small island of Grimsey can be mesmerizing.
Summer solstices in Grímsey are a special time. This is when we have the longest day, and the sun paints the landscape with vibrant colors. That is – if it's not cloudy. The following photos are all taken on June 24, 2023. When nature offers such conditions, staying awake and searching for motives is tempting.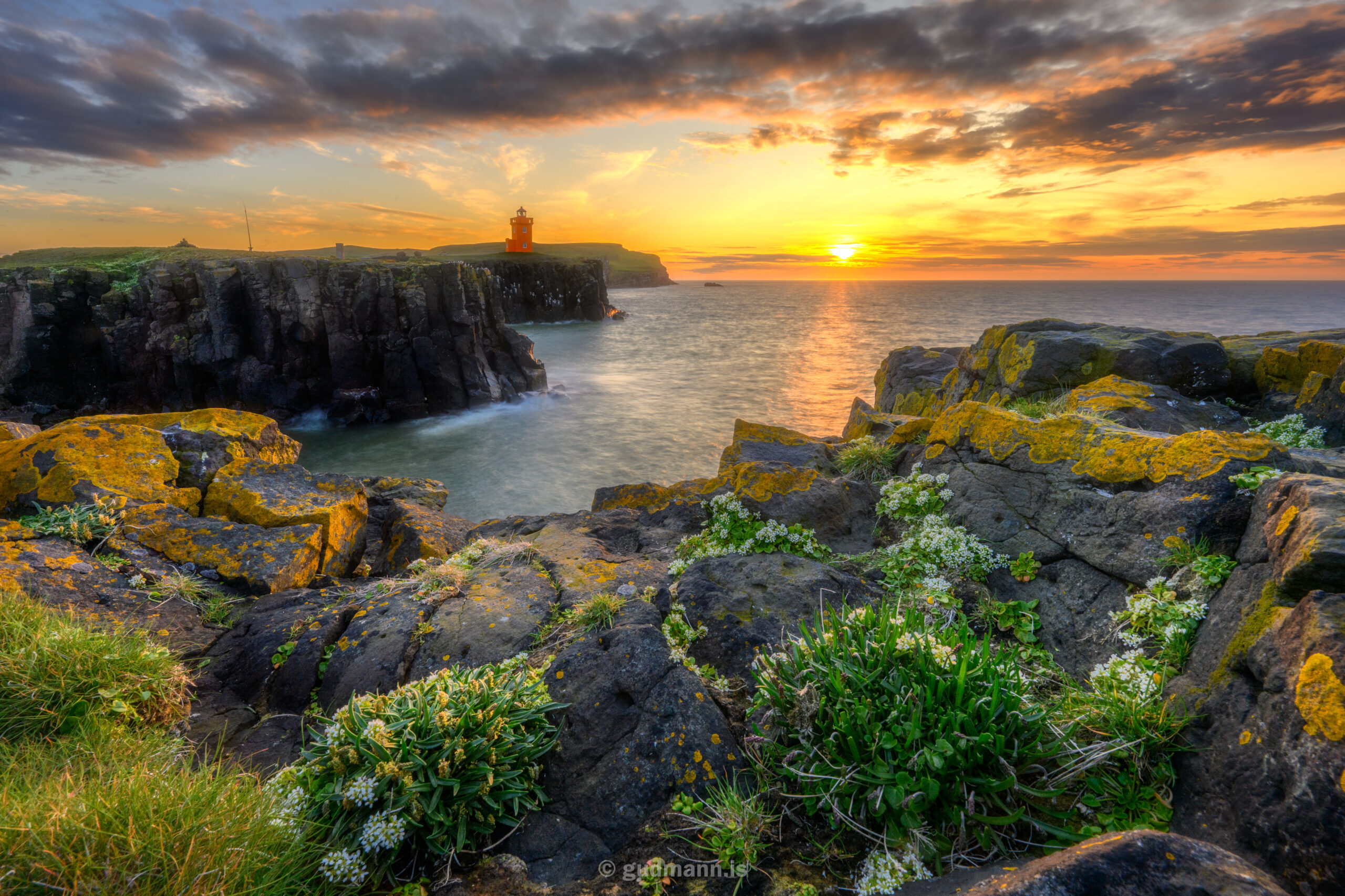 The yellow moss creates a contrast against the gray rocks.

The tufts grasp the sunlight and create interesting shadows. The puffins sit by their burrows, enjoying the colorful spectacle's best view. The so-called Fótur (Leg), the northernmost part of Grímsey, points north towards the sun.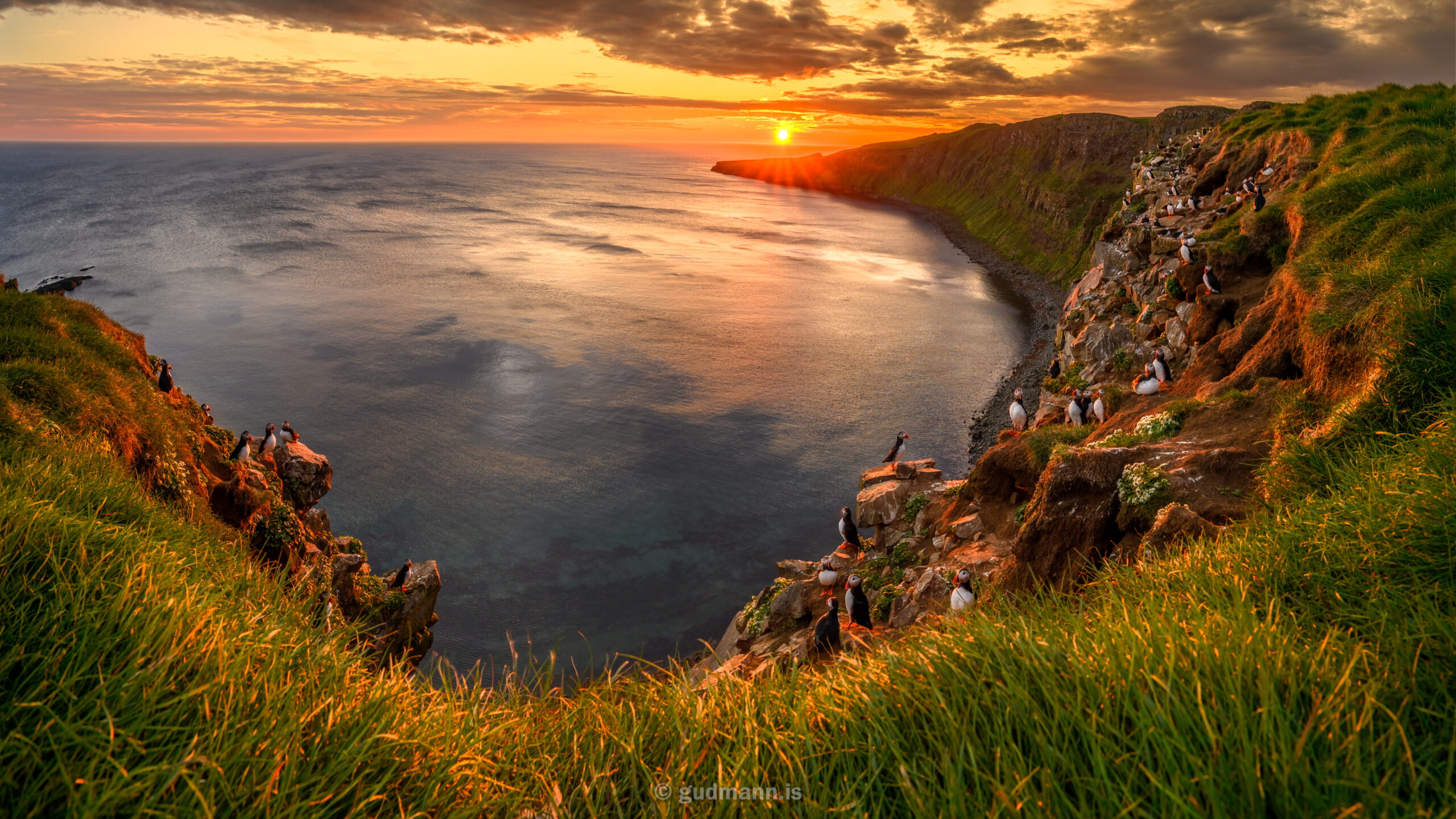 Lying on the edge of Básavík's cliff, the puffins look like illuminated light bulbs in the sunset. The photo is taken handheld at 1/20 speed, f10 aperture, yet still at 64 ISO. Before image stabilization was introduced in cameras, capturing such a scene without putting the camera on a tripod was challenging. The lens is at 14 millimeters, meaning the puffins are much closer than they appear.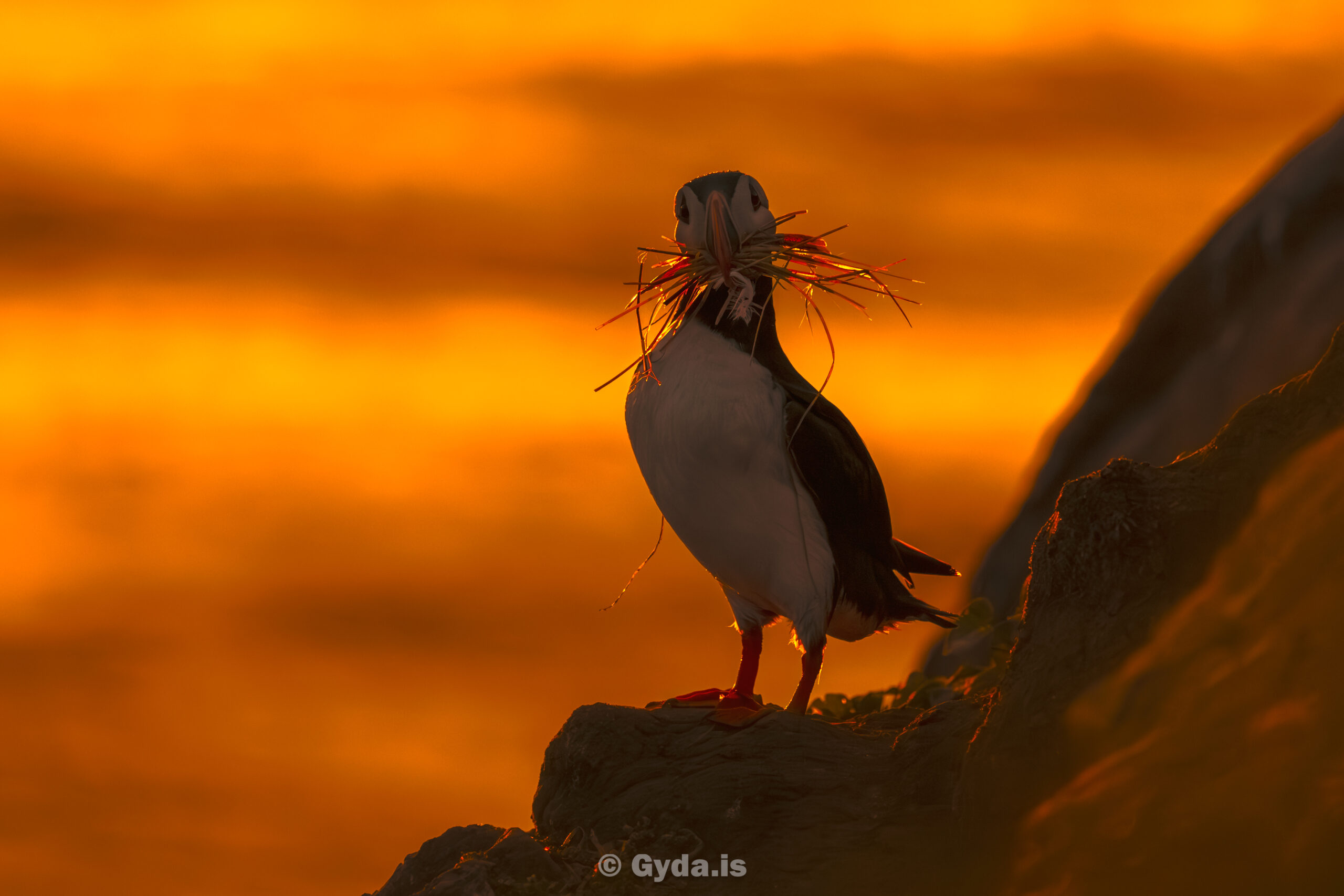 A puffin stands proud with grass for it's burrow.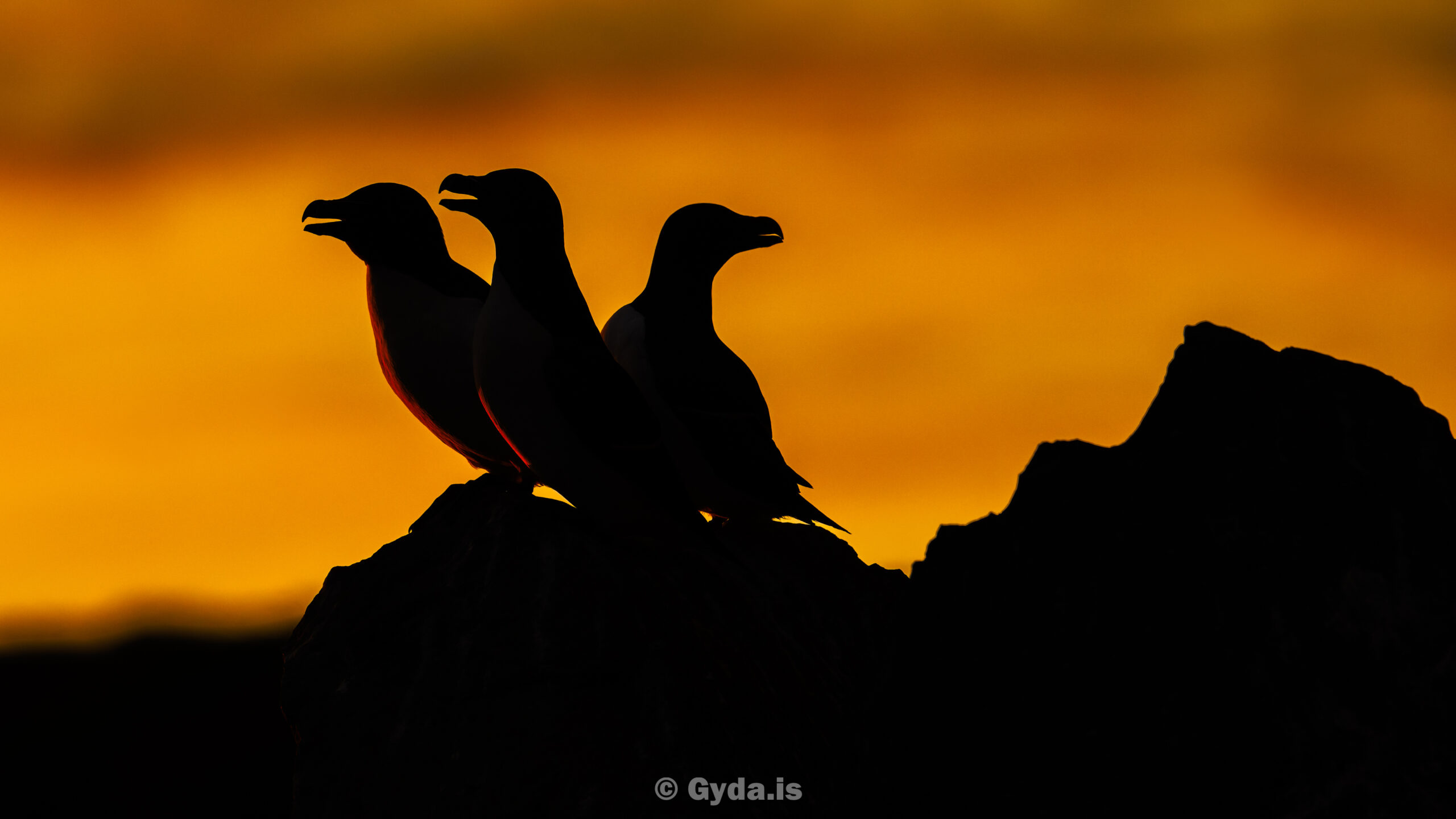 Razorbill silhouettes in the midnight sun.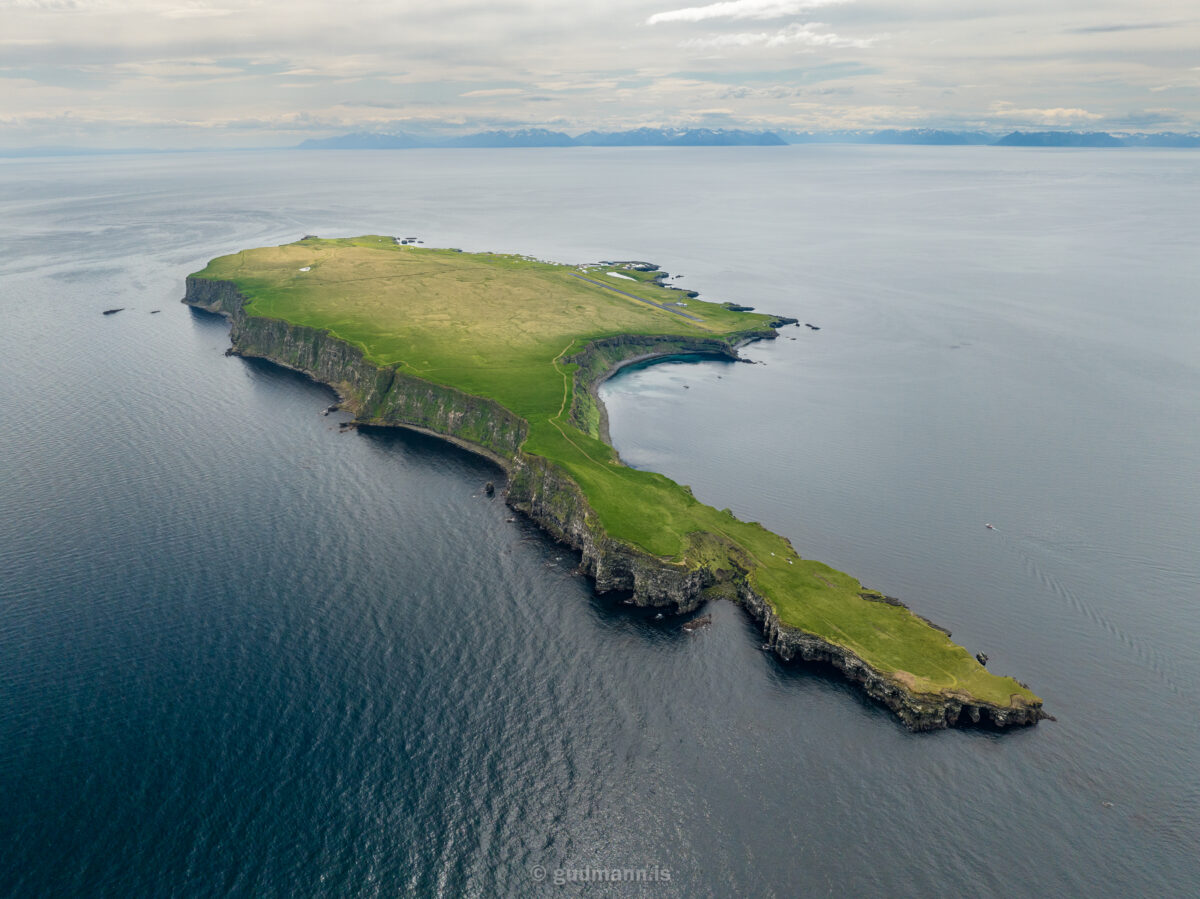 Grímsey, June 24. It's not quite green yet, but it's teeming with life. Possibly up to two million birds inhabit this small island.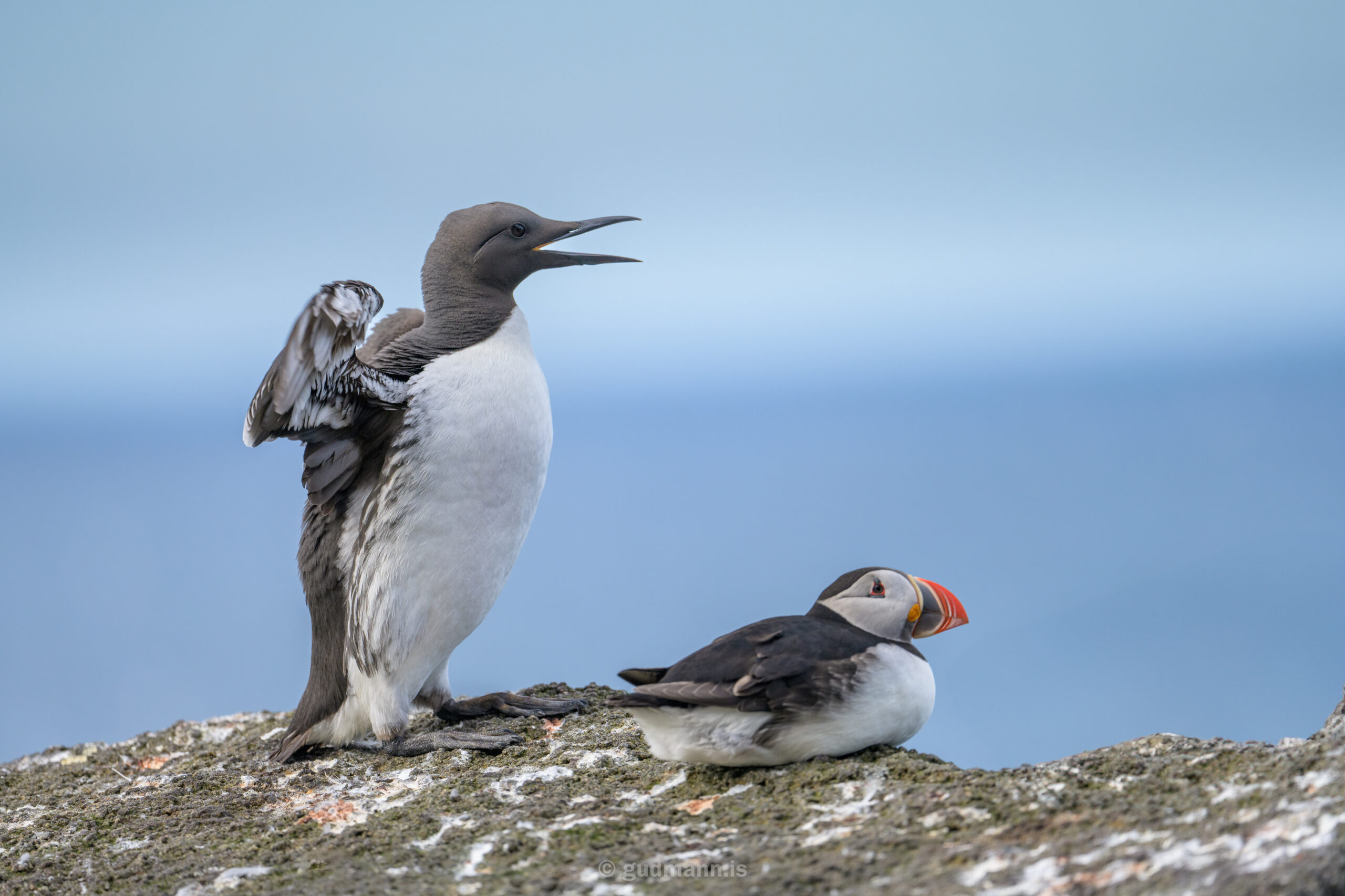 After sitting on a rock, struggling to capture a group of guillemots with a long lens, I looked around. Behind me, a puffin and a guillemot were sitting and relaxing.
Guillemots and puffins are fascinating subjects. Their color changes depending on how the light falls on the feathers. For a moment, they seem black, but when the light changes, they become brownish.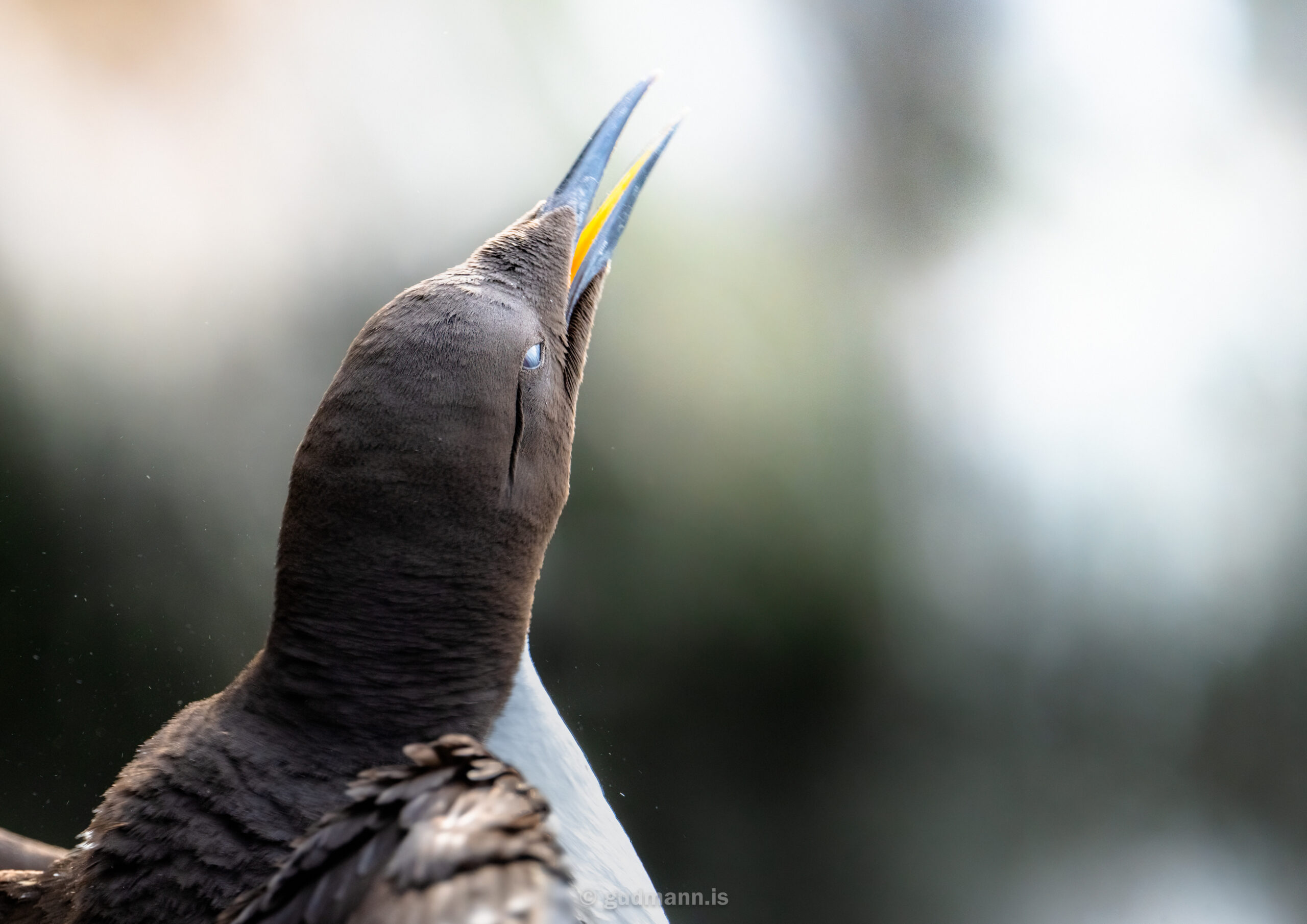 The long-tailed duck resembles, in many ways, emperor penguins, as they are related. About 65 million years ago, emperor penguins evolved in a way that they stopped being able to fly. Evolution sacrificed flight for better swimming ability. In water, the guillemots remind of king penguins. Guillemots use much less energy to swim than other bird species and swim incredibly fast – but, on the other hand, they expend a lot of power in flight. Swimming ability has been more important than flying ability at some point in evolutionary history. Thus, these two species diverged in ancient times.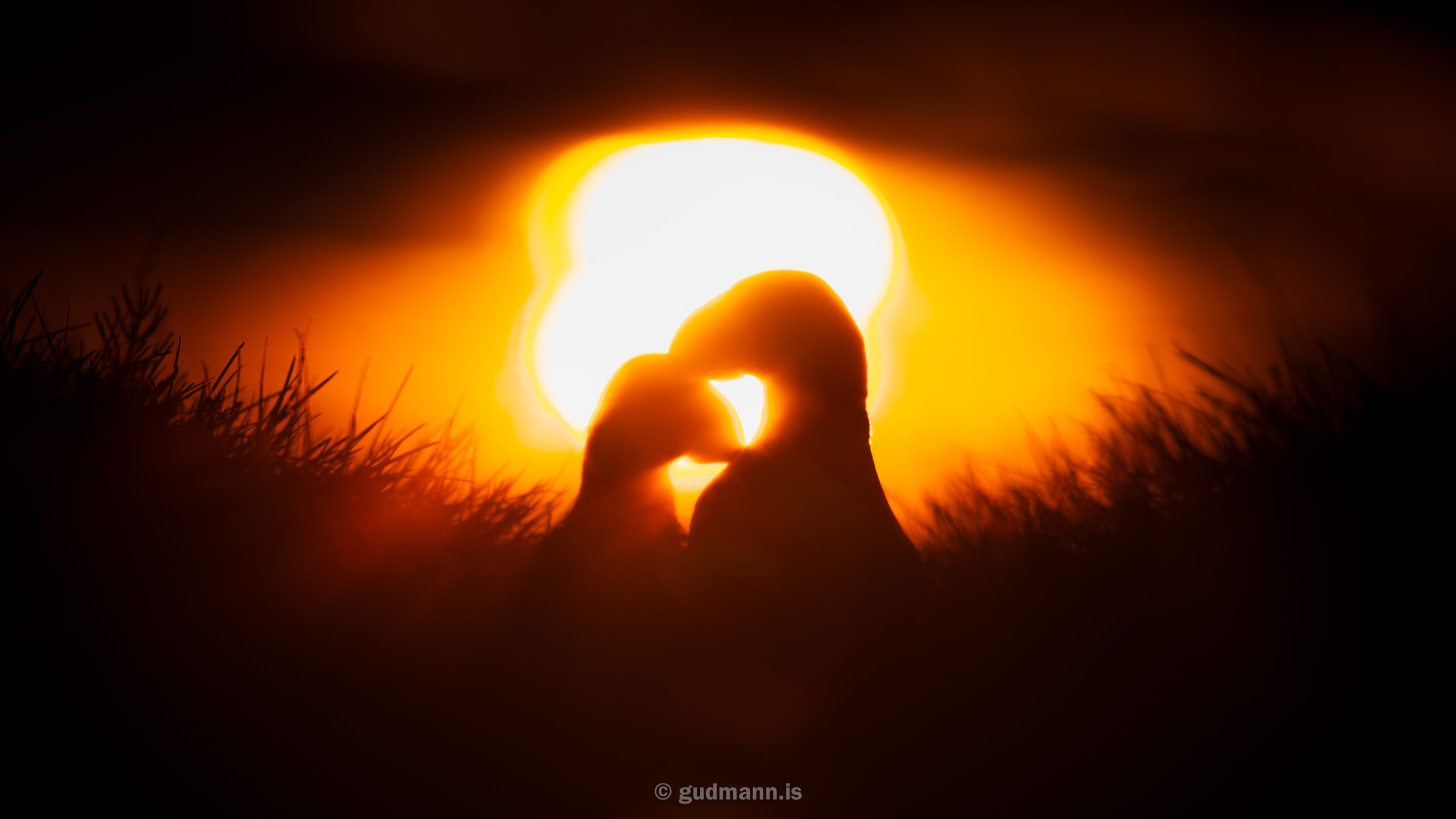 A pair of puffins cast a shadow in the sun – and finally, we could go to sleep.
---
---
Our Books About Iceland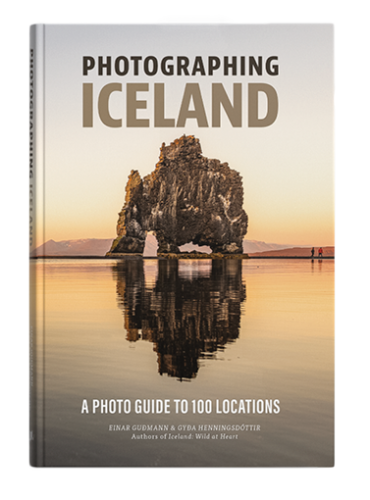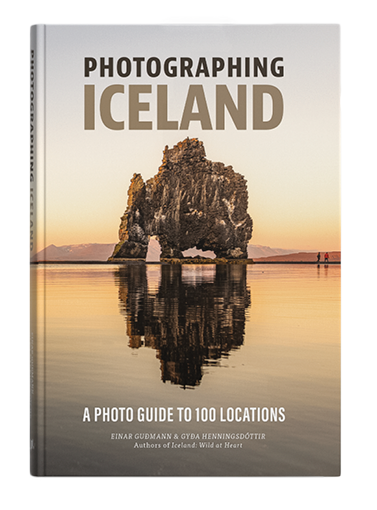 PHOTOGRAPHING ICELAND – A Photo Guide to 100 locations
A must-have if you plan to visit Iceland. It is an excellent guide to Iceland and the book we wish we had read years ago when we started traveling in Iceland. The book is the result of a vast undertaking and took more than a year in the making. It is available in all bookstores in Iceland and our online store. Now also available as an e-book.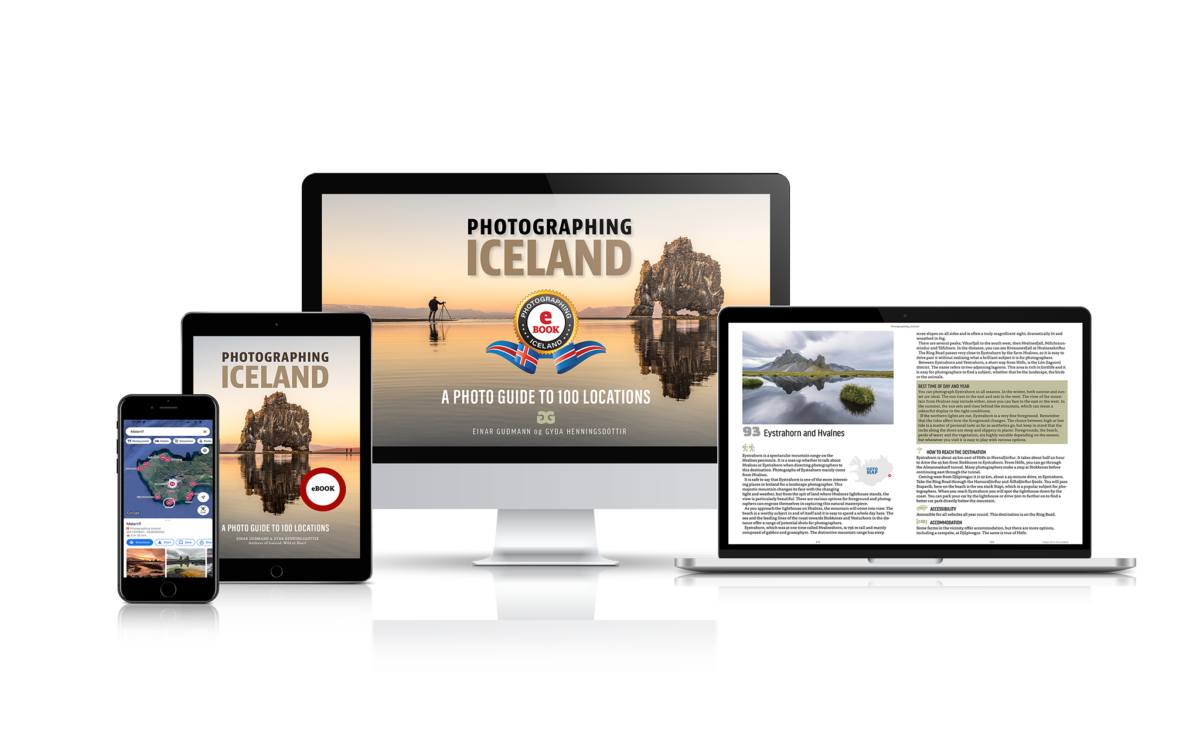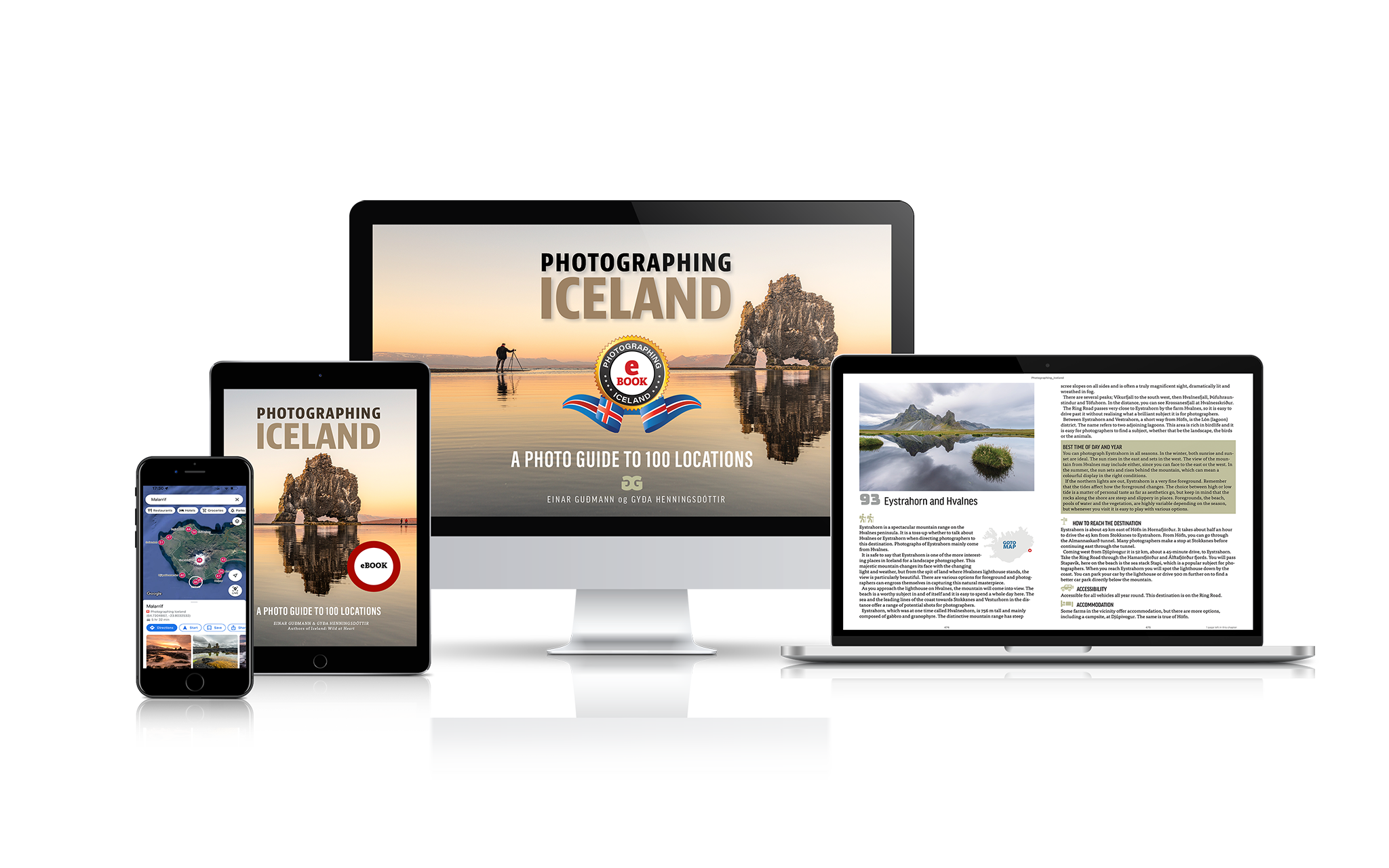 The e-Book version can be found is here…
The softcover and paper version is here…
Soft cover in protecting plastic: 21 x 14,5 x 2 cm and 352 pages.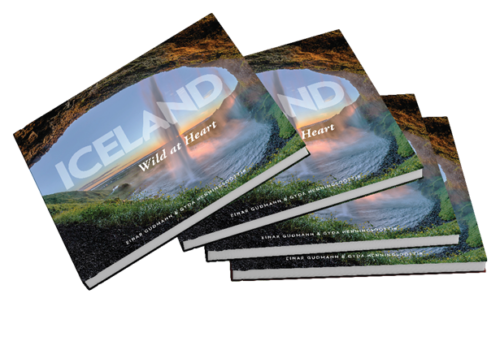 ICELAND: Wild At Heart
Our beautiful bestseller. Available in all bookstores in Iceland and our online store.
Hardcover large format: 26,5 x 22,5 x 2cm and 160 pages.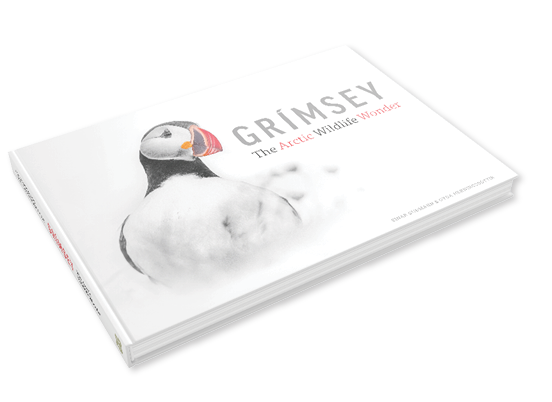 GRIMSEY – The Arctic Wildlife Wonder
Our latest book and a must-have if you plan to visit Grimsey. It is currently only available in our online store and in the Gallery in Grimsey.
Hardcover: 24,5 x 17,5 cm and 120 pages / 7000 words
It is possible to order our books in our online store with worldwide shipping: www.ggart.is.
Notice that the shipping cost is the same if you order two books.