Last weekend me and Gyda drove 200 km to Hvitserkur in northwest Iceland in our mobile car. The idea was to stay there for two days relaxing and photographing. Going somewhere in the mobile car, stopping, having coffee, looking out of the window in the middle of nowhere is therapeutically relaxing. Hvitserkur is a 15 m high basalt stack standing near the shore at Vatnsnes. Nearby are seals and birds telling us the spring is closing in.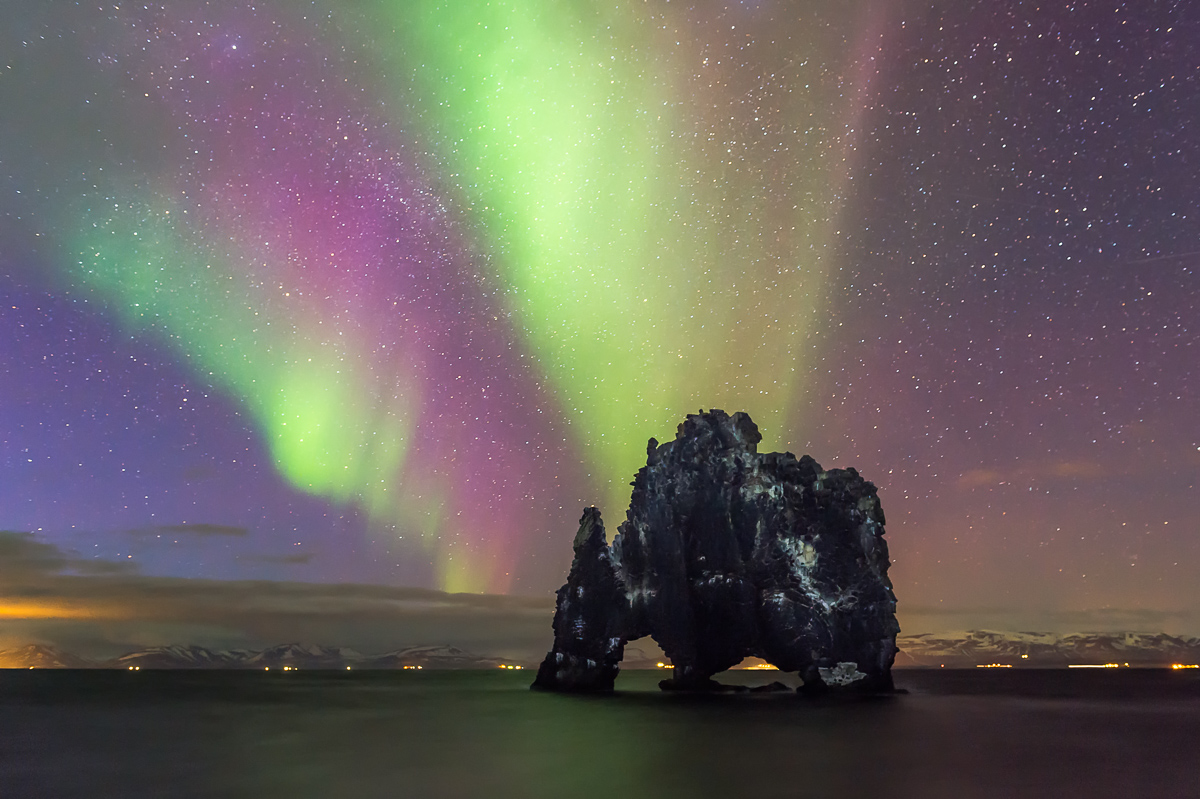 We had not staid for long at the parking lot when the first car arrives. Chinese tourists heading for Hvitserkur start walking towards the basalt stack and these were not the only tourists at Hvitserkur. At some point 10 cars were stopping there which is strange for this time of year but the fact that most of them looked Chinese is even more strange. The effort the Icelandic Tourist Board has been putting into increasing the tourist flow during the winter months is probably working.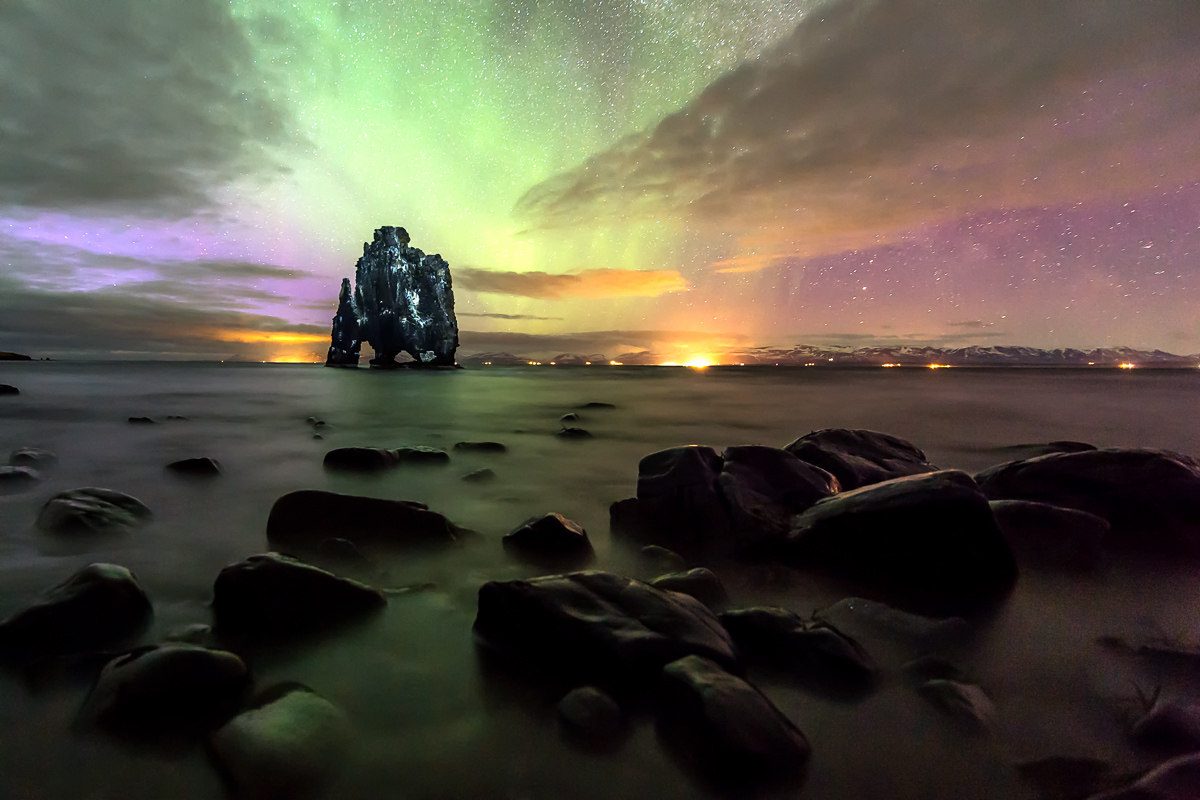 Saturday night we went to sleep at 22.00 after spending the afternoon photographing Hvitserkur. We woke up at 23.30 in the freezing cold of the unheated car, terribly sleepy. The idea was to look out for northern lights. I looked outside and tried to convince myself there were no northern lights and we could go to sleep. Knowing I would probably not see them with my sleepy bare eyes I took one 8 sec handheld exposure out of the car-window. There was a bit of greenish tone in the image but another shot with increased iso showed me the aurora was increasing. This is nothing – I said to Gyda who also wanted to keep sleeping. Once again looking outside a burst of aurora appeared just above the basalt stack as if it was tempting me to go out – and so we did.
It was almost high tide when we walked towards the shore at Hvitserkur, but after waking there with our headlights leading the way in the total darkness we were no longer tired. There is something incredible seeing the aurora. As usually the main problem with aurora photography is getting the subject into focus. I use live-view and zoom into one light or star and use manual focus to adjust it. If the zoom is changed this has to be done again.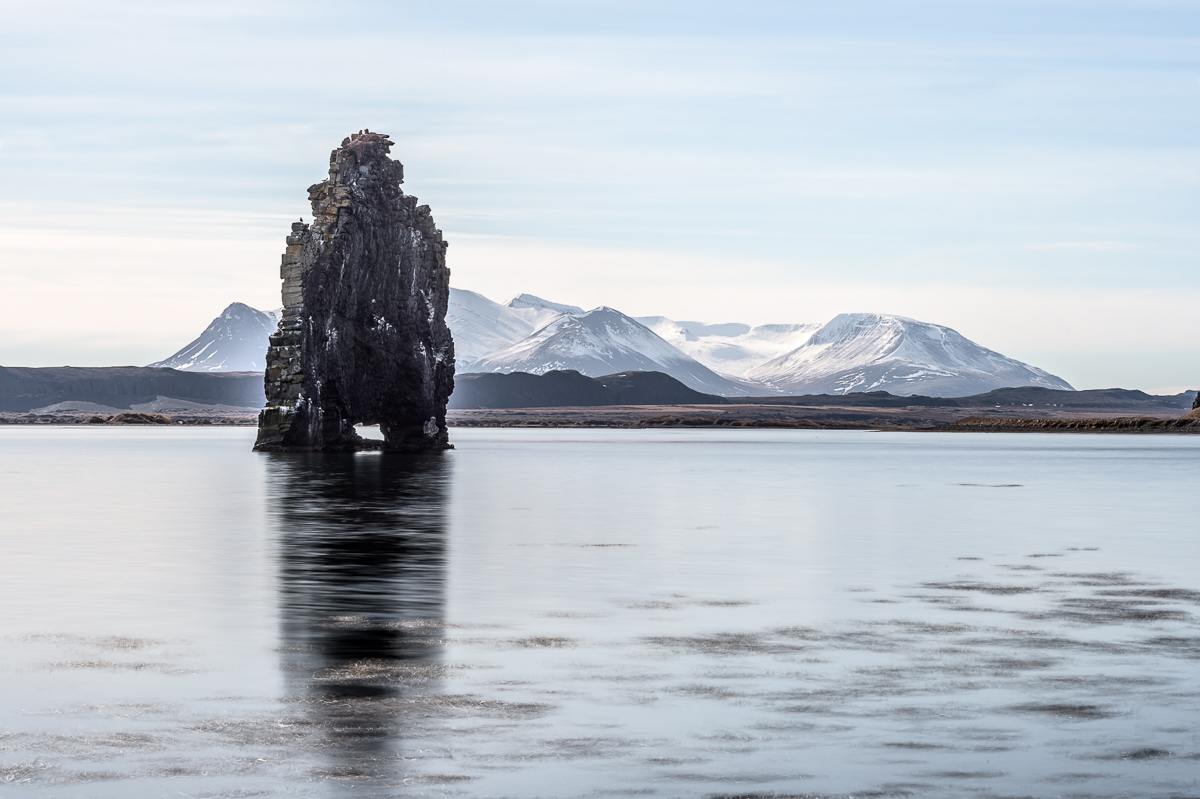 On Sunday it was sunny which was welcomed after the cold night. I flew the drone around the basalt stack and we spent the rest of the day soaking in the sun which was welcomed after a long winter. We worked the scene near Hvitserkur and we went home in the afternoon relaxed and satisfied with the results. We had been there during low-tide and high-tide and spent time photographing during the daytime and the punchline were the northern lights.