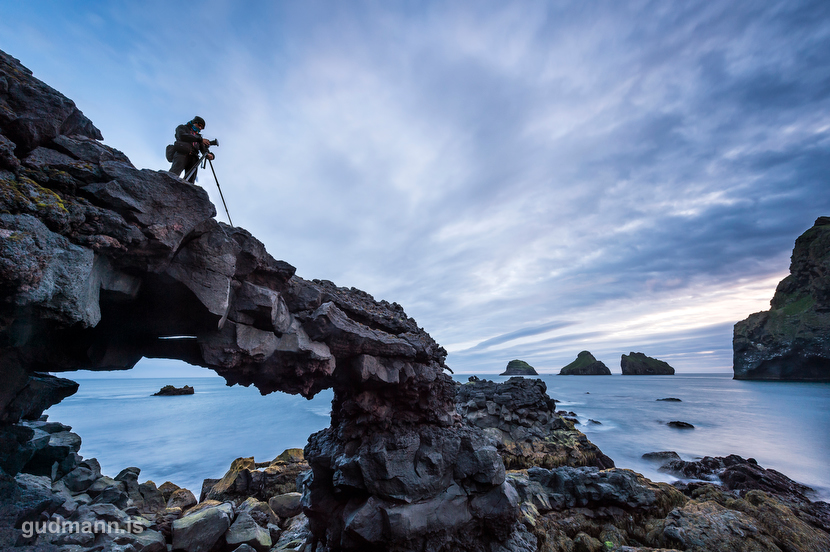 Yesterday we sailed to Vestmannaeyjar, sometimes called Westman Islands,  from Landeyjarhöfn harbor. For some reason I have not seen many landscape photos from Vestmannaeyjar Islands. Vestmannaeyjar is a town and archipelago off the south coast of Iceland. We are going to stay there until Saturday photographing and mingling with the locals.
Arriving with the ferry which takes only 30 minutes from Landeyjarhöfn I noticed that there are not so many tourists in Vestmannaeyjar as in the mainland. At this time of year tourists are everywhere but the first impression is that Vestmannaeyjar is yet to be discovered as a location for photographers in Iceland. Only few tourists were in the town which is very lively with it´s 4100 inhabitants.
When we arrived a damp fog was over the islands, but soon it lifted and we had sun. In the afternoon I was not expecting light for photography, but just before 23.00 we did go out searching for motives. There are motives here and the mission is to find some.
The above photo is taken very close to the golf course which is near the camping site. The sunset is behind the mountain but we get some color in the sky. The sunset is probably better at the east side of the islands, that is were we are going later.