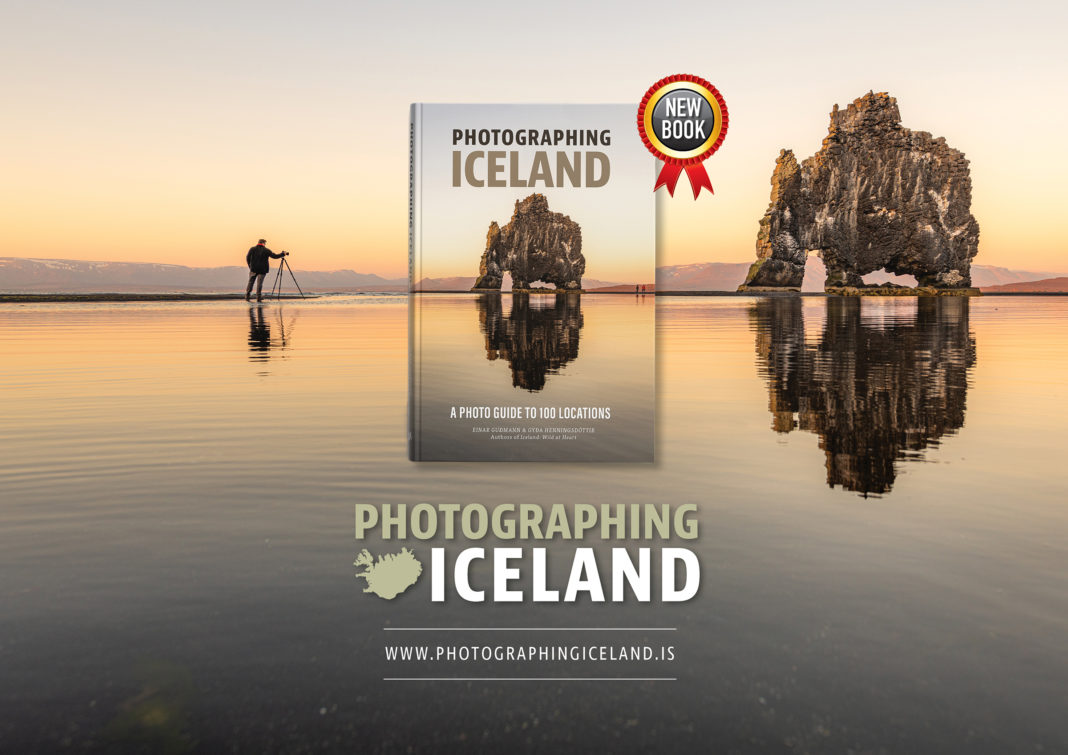 New book: Photographing Iceland: A photo guide to 100 locations
We are pleased to announce our new book Photographing Iceland: A photo guide to 100 locations. We really put our hearts into this book. The result of a vast undertaking, the book provides comprehensive coverage of 100 locations – all the classic ones and a surprising number of lesser-known gems.
The perfect travel companion for anyone visiting Iceland with a camera
Our goal was to make the book as practical as possible for anyone visiting Iceland with a camera. The result is the book we wish we had when we were just starting to travel around the country specifically to photograph nature and the landscape.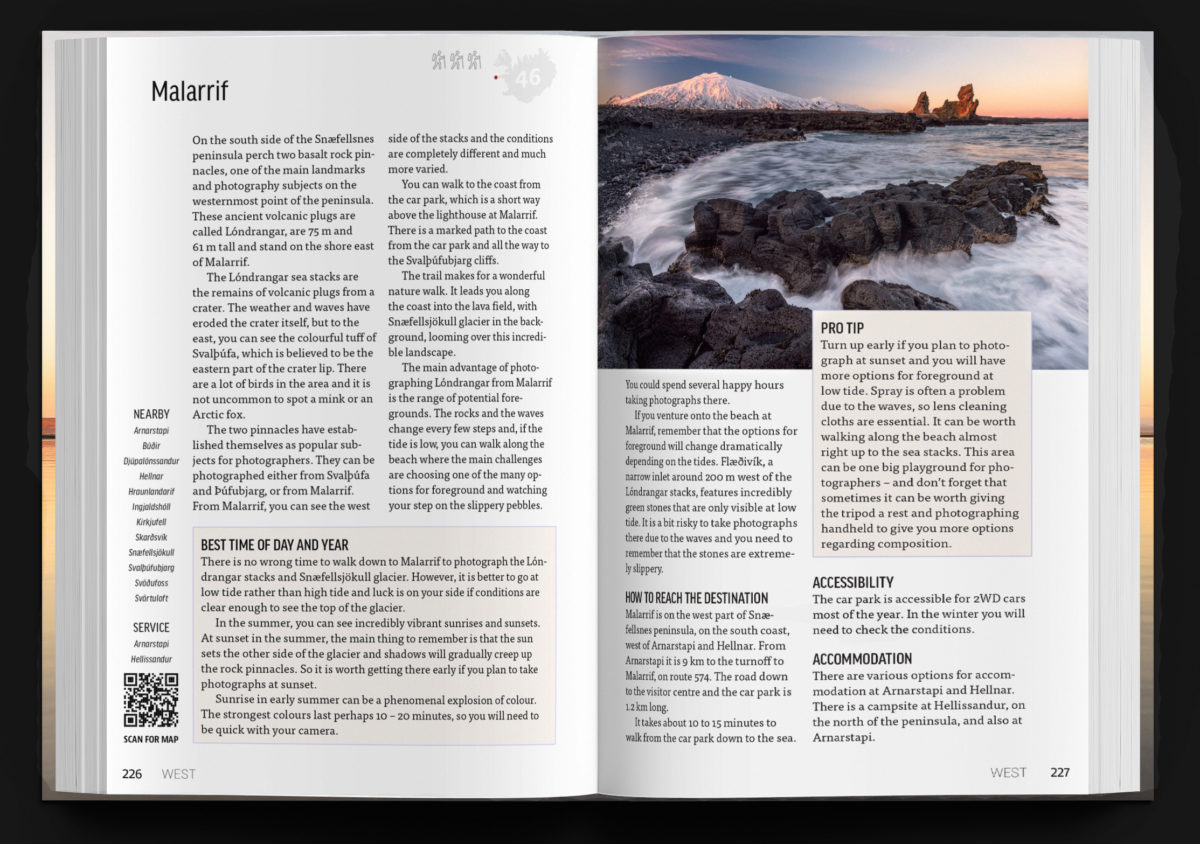 The coverage of each location gives insight into the history, geology, and folklore where it fits, but the main aim is to provide the photographing traveler with information, not only about what makes the location interesting, but also about the best time of day and year to visit, how to reach the location, options in accommodation as well as pro photography tips, main dangers, and traps.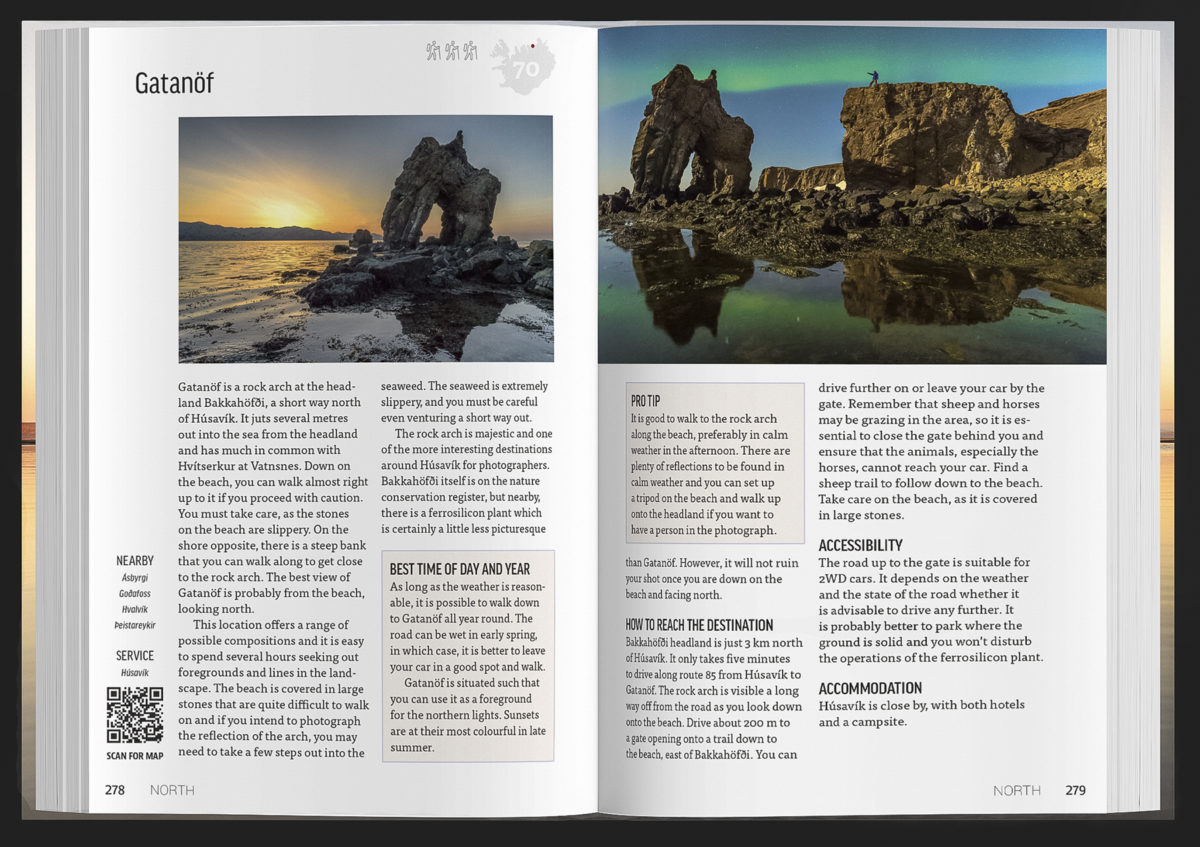 Key features
100 locations. The classic ones and a surprising number of lesser-known gems.
Detailed –hard to get interesting information about the locations.
Online maps for your phone.
Pro photography tips.
Suggested photography trips.
Choosing how to travel.
Safety and driving in Iceland.
Time-saving info.
Money-saving tips and spending traps.
Main dangers and traps.
The printed version is 352 pages.
Now – 2023 – also available as an eBOOK.
It is our belief that by reading about the locations before arriving, the experience and the approach of the visit will be both more efficient and enjoyable.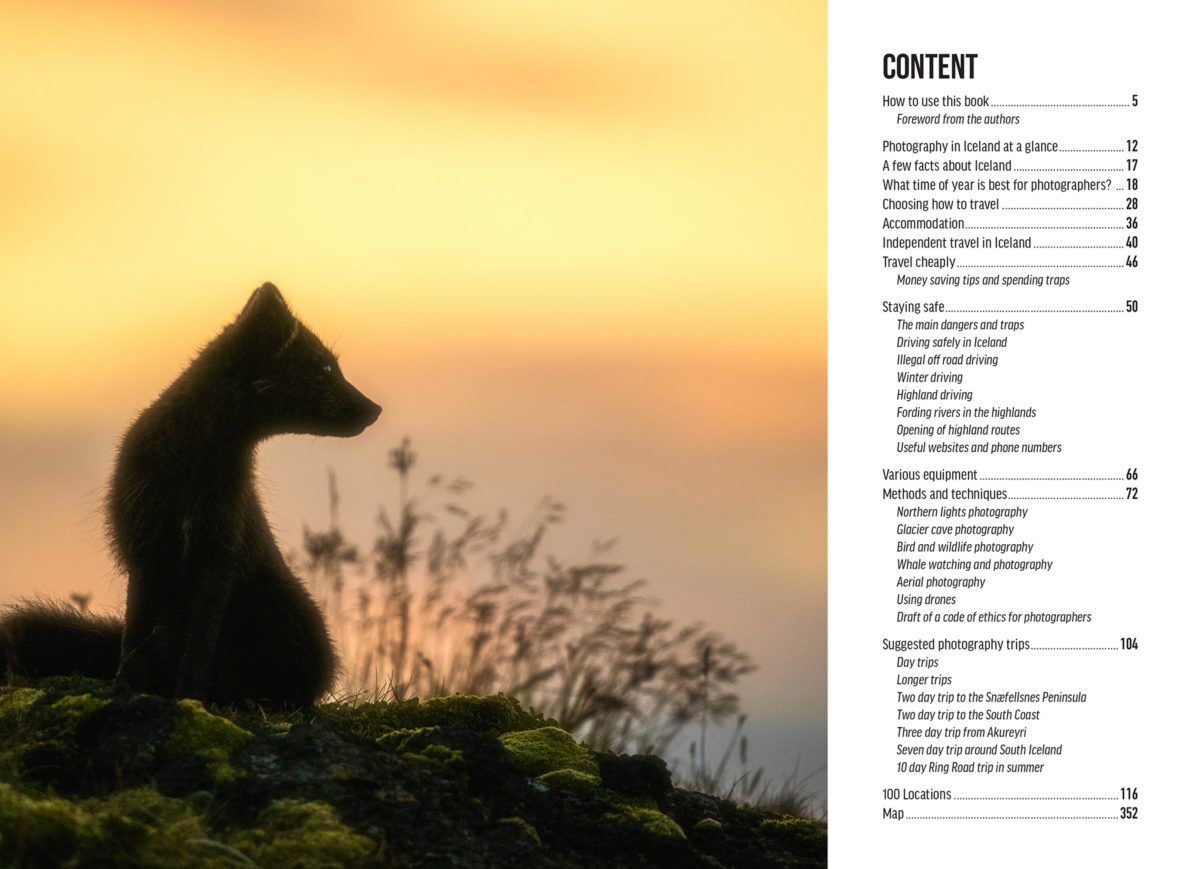 Methods, techniques, and equipment: a delicate business
The book is not a photography manual. We assume that the reader already has a basic knowledge of photography. Nevertheless, we go over the methods and equipment that you can expect to be particularly useful in Iceland.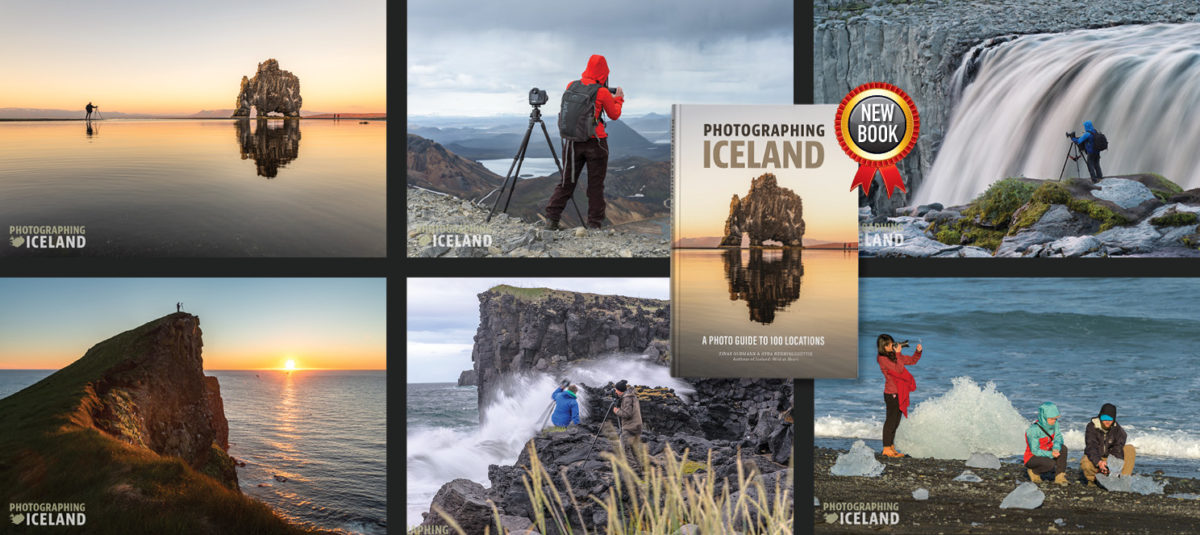 Telling a photographer which camera and lens to use or how to take photos, is a bit like telling a painter which paintbrush to use or a chef which spice: a delicate business. Some use only their phones, while others haul around more than one camera and all different sizes of lenses, tripods, and drones.
Our goal in writing this book is to ensure that people who take photography seriously get the most out of their trip to Iceland, whether they are traveling alone or on an organized tour.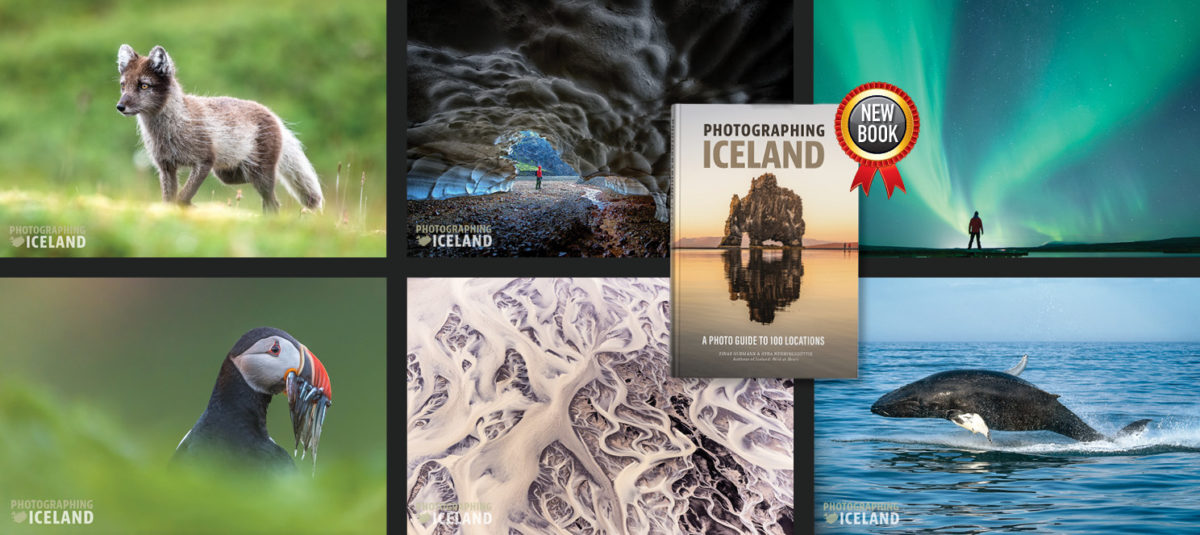 We address northern lights photography, glacier cave photography, aerial photography from a plane or helicopter, drone photography, whale photography, and bird and animal photography.
Practical online Google maps and time-saving info
One of the book's main features is the practical use of QR codes and a list of nearby locations. By scanning a QR code for each location with the phone's camera, the reader can access an online Google map of the location. A list of nearby locations can also be useful when deciding where to go next and knowing if you have time to photograph one more location.
Genuine advice based on our own experiences
We have compiled information and advice for people who take photography seriously, whether they use a large camera or a phone and our resulting book might be described as a mix between a travel guide and a photography guide.
Photographing Iceland is full of genuine advice based on our own experiences. Hopefully, we have succeeded in creating a guide to Iceland that allows travelers to experience and enjoy the country on their own terms.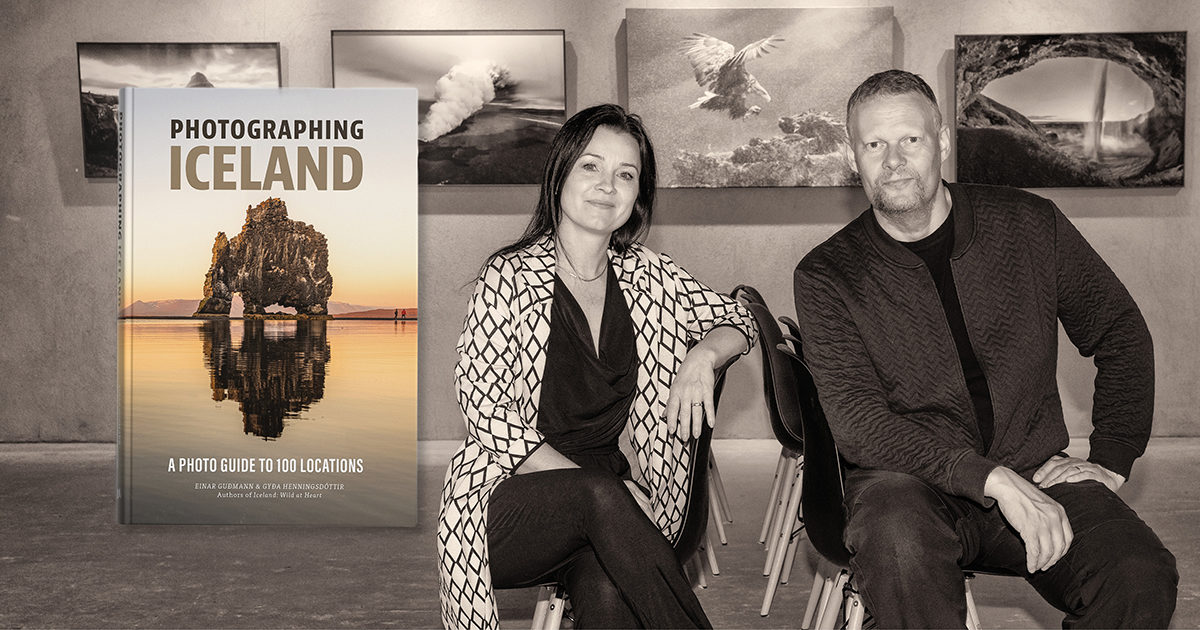 The printed version is available with worldwide shipping
Photographing Iceland: A guide to 100 locations is available in bookstores in Iceland and we offer worldwide shipping a low cost at our online store GG ART.is- www.ggart.is/en
2023 update: now also as an e-BOOK
Finally, we can offer Photographing Iceland as an eBOOK. It is an ePUB – reflowable which means it can be adjusted to all displays and you can change the size of the text for a better reading experience.
The iBooks app is recommended if you are using an Apple device. It also works on Android phones and devices.
Einar Guðmann and Gyða Henningsdóttir