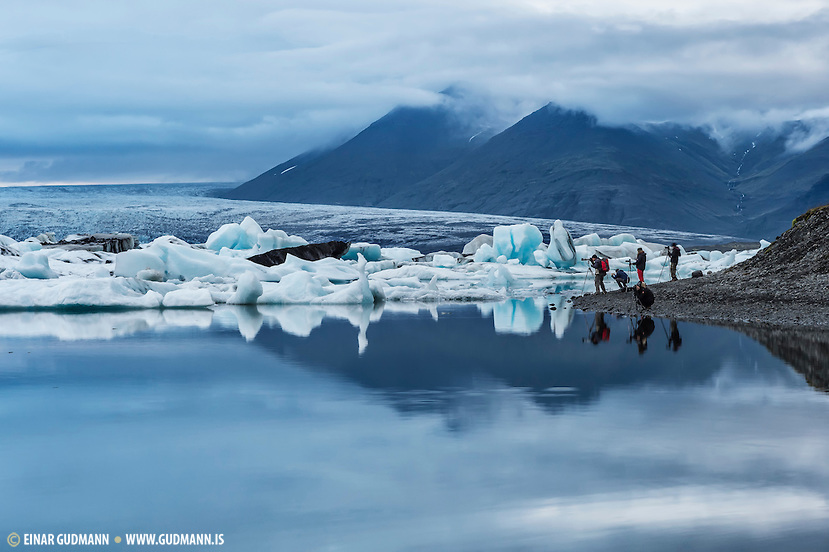 One of the must see locations for the landscape photographer in Iceland is Jokulsarlon. It´s a large glacier fylled lagoon close to the Vatnajokull National park. Jökulsárlón has been a setting for four Hollywood movies: A View to a Kill, Die Another Day, Tomb Raider and Batman Begins, as well as the "reality TV" series Amazing Race. It can be seen from road no 1. beetween Skaftafell and Höfn. Every day during the summer swarms of tourists visit the location and many of them photographers.
I go there every year. Sometimes two or three times and try to stay there overnight for two or three nights. From a photographers viewpoint the best time has been very early in the morning. If you want to photograph icebergs in the black sand the late evenings work fine. If you want to get mirrored large icebergs in the lagoon the very early morning have proven to be best for me. Sailing on one of the tourist boats in the lagoon is not working for me. It´s not really giving opportunities to get controlled shots of the icebergs. If you are lucky you might see seals resting on icebergs.  Taking a walk along the shore can provide many opportunities. The bird life there is fantastic and seals are there trying to catch fish, mostly during the wintertime.
The Jökulsárlón lake provides outstanding views of the ice cap, a vast dome of ice that rises to a height of 3,000 feet (910 m). It spills to the lagoon 12 miles (19 km) away from the jagged glacier hill to the edge of the water line. The lake developed only about 60 years ago (1948 is mentioned), when the entire area was less than 100 feet (30 m) of glacier, which was only 250 yards (230 m) from the Atlantic Ocean, and 2 miles (3.2 km) away from Vatnajökull. Vatnajökull was at the shore line of the ocean and dropped icebergs into the ocean. However, it started drifting in land rapidly every year leaving deep gorges en route, which got filled with melted water and large chunks of ice. These icebergs gather at the mouth of the lake's shallow exit, melt down into smaller ice blocks and roll out into the sea. Some icebergs appear naturally sculpted on account volcanic ashes from ancient eruptions that partly cover them.